Hi everyone, I'm back! Sorry for the delay in uploading the post. I've been busy with the merry season currently in full swing. I had promised that I would provide an update of my two week season of sickness, and I will stay true to that promise with this post, which will basically cover what has happened in my life so far, and what I'm really looking forward to with 2017 just around the corner. Now, I may be four days late for one, and two days early for another, but I would first like to wish all my readers,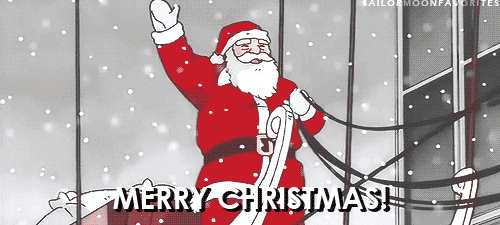 Let's begin! December 9 was the beginning to a memorable end of the roller-coaster ride that has been 2016, and it started with me falling sick. What started out as a mild cold became a sore throat followed by a week of quality time with my good old friend, the bed. While physically bedridden, mentally, I was primed. Aside from pondering the purpose of my existence as I lay in bed, my mind was overwhelmed with an insurmountable wave of creativity helping me set up the groundwork for 2017 regarding my plans for forthcoming writing projects, my career (as I will begin my PhD studies in September 2017), my work as a budding manga writer, building on the developments for The Pensive Reverie etc.
Thankfully, I was not alone in this wonderful exodus as I was accompanied all the way by my ever gracious partner who also fell sick. This meant some quality time together doodling about, playing board games, binge-watching TV shows, further discussions, now, on the purpose of our collective existence, and pretty much waiting for time to pass just so that we can feel better again.
But in the end, we were both able to make a complete recovery right on time for Christmas allowing us to round up this past weekend by celebrating the merry season as well as our four year anniversary together as a couple!
To my partner Leina,

あなたはわたしのゆめのじょせいだ。

はじめてあたときからすきだた。

いつまでもいっしょにいたい。

愛しています。
Now, with 2016 coming to a close, I have successfully completed my robotics internship, and am currently going through a rigorous course of content editing Agent X [my second book!] I hope to get this done by January 15, 2017, and moving forward from there, set in motion my plans for publishing the book, as well as promoting my work on this blog! At about the same time, I will be traveling to India to visit my family on a much needed vacation.
It's been eight years since I last visited my hometown so I'm looking forward to returning home. In the meanwhile, I intend to keep up with my weekly blog posts, and discuss my daily adventures. I will keep you all posted in case of impending delays or absences.
And, that basically all there is to it! I wanted to keep this blog post short, and simple. I will soon be posting my analysis on Chapter 1 of Dragons of Eden where we will discuss the cosmic calendar, and have a brief adventure involving interesting theories, and discoveries in the field of cosmology!